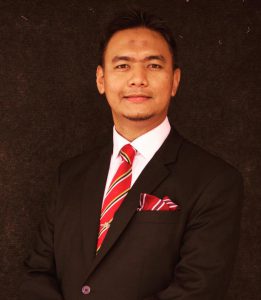 Biography
Ir. Dr. Nazrul Anuar Nayan (MCKK's Mohd Shah House) was born in Chemor, Perak. He is a senior lecturer and researcher at the Faculty of Engineering & Built Environment, Universiti Kebangsaan Malaysia (UKM). He was the Director at the Centre for Alumni Relations of UKM.
He obtained his Bachelor of Engineering in Information & Communication Engineering, from The University of Tokyo in 1998, Master of Engineering in Electrical & Electronics and Doctor of Philosophy in Electronics and Information Systems Engineering from Gifu University, Japan in 2008 and 2011, respectively. In addition, he has also gone for a-two year (2014-2016) post-doctoral research programme at The Institute of Biomedical Engineering, University of Oxford, United Kingdom. He was a Research Member of Common Room, Kellogg College, Univ. of Oxford in 2015-2016.
Dr. Nazrul started his career in engineering as a Designer at Hitachi Limited, Tochigi, Japan (1998-2000), then continued as a Test Engineer at Unisem Malaysia Berhad (2001-2003), Senior R&D Engineer at STATSChipPAC Malaysia (2003-2005) and as an Academic Researcher at Mimos Berhad, Kuala Lumpur (2012). He has received several awards such as Japan's Monbukagakusho Scholarship Awards (2005-2011), Student Research Award, IEICE, Tokai Division, Japan (2010), Academic Excellence Award, Gifu University (2011) and Excellent Service Award, UKM (2014,2018). In 2019, he was chosen as one of 50 'Gems of The East' in conjunction with the 30th Alumni Look East Policy Students Anniversary.
His research interests lie in the field of Big Data in Healthcare (Biomedical Signal Processing), Digital Integrated Circuit Design and Computational Thinking. He has received 6 research grants as the project leader and published 19 research articles in international journals and has presented 32 conference papers. He has also supervised 7 PhD and 2 Master students. Other than English and Malay, he is fluent in Japanese.  In 2013, he was appointed as a Professional Engineer with Practicing Certificate (Electronics: C115815) by the Board of Engineers, Malaysia. Dr Nazrul is a Certified HRDF Trainer, Licensed NLP Practitioner and Certified Good Clinical Practitioner. Despite, his academic achievement, he was also a MCOBA's volleyball team member who loves to hike and travel. He is the founder and managing director of IDNA Training & Consulting. 
email: nazrulanuar@gmail.com
Scopus Author ID: 57210194256
Publons ID: 2796166
Research Gate ID: Nazrul_Anuar_Nayan2
ORCID ID: 0000-0001-6657-2982